Switch to Paperflite
THERE IS ALWAYS A BETTER WAY OF DOING THINGS
Lead the Pack
Content is the chassis of your marketing and sales. It is so much more than simply generating links. The right content platform will enable teams such as – demand generation, content marketing, product marketing, event marketing, digital marketing, inside sales, sales reps, account executives, customer success take full advantage of content and the insights it provides to move the deal forward.
If you are looking for a DocSend alternative or a content platform that is a best-fit for your sales & marketing teams and enterprise requirements, welcome to Paperflite.
4 Reasons Why Paperflite is Your Best Alternative to DocSend
Why Settle For Lesser Intelligence?
There's so much more than a per-page analytics. Paperflite gives you 360 degree insights on metrics that matter to you the most.
‌
Content Intelligence
Get detailed content performance metrics across channels, across the company and user groups including engagement patterns, views, downloads and shares. Learn how each piece of content is convincing your prospects and enabling decision making.
‌
Campaign/Conversation Intelligence
Know exactly how your content is performing in each of your campaigns or conversations when you share with prospects. Whether it's a marketing campaign, a sales cadence or personalized mails, instantly know how your prospects engage with your content.
‌
Prospect Intelligence
It takes multiple interactions with a prospect before you close a deal. Instantly view all the engagement data related to each prospect, how much time they spend on your content, all your content interactions till date so you know how to steer the next conversation.
‌
sales Intelligence
Track your company's sales intelligence. From Content Discovery to Performance to Engagement – powerful insights to help you move the pipeline forward. Know your unique viewers, decision makers, who's sharing what, and how it is driving sales.
.
Personalized Experiences Made Simple
Why create multiple links and distract your prospect, when you can delight them with a personalized storyboard? With Paperflite, you have more ways to capture the imagination of your prospects.
Add any form of content from any source to one screen on your storyboard and keep your prospects engaged. Be it PDFs, presentations, emails, YouTube videos, blogs, websites, soundtracks, 3D files – anything that enables you to close the next deal. Paint your canvas the way you want it and give the experience your prospects deserve!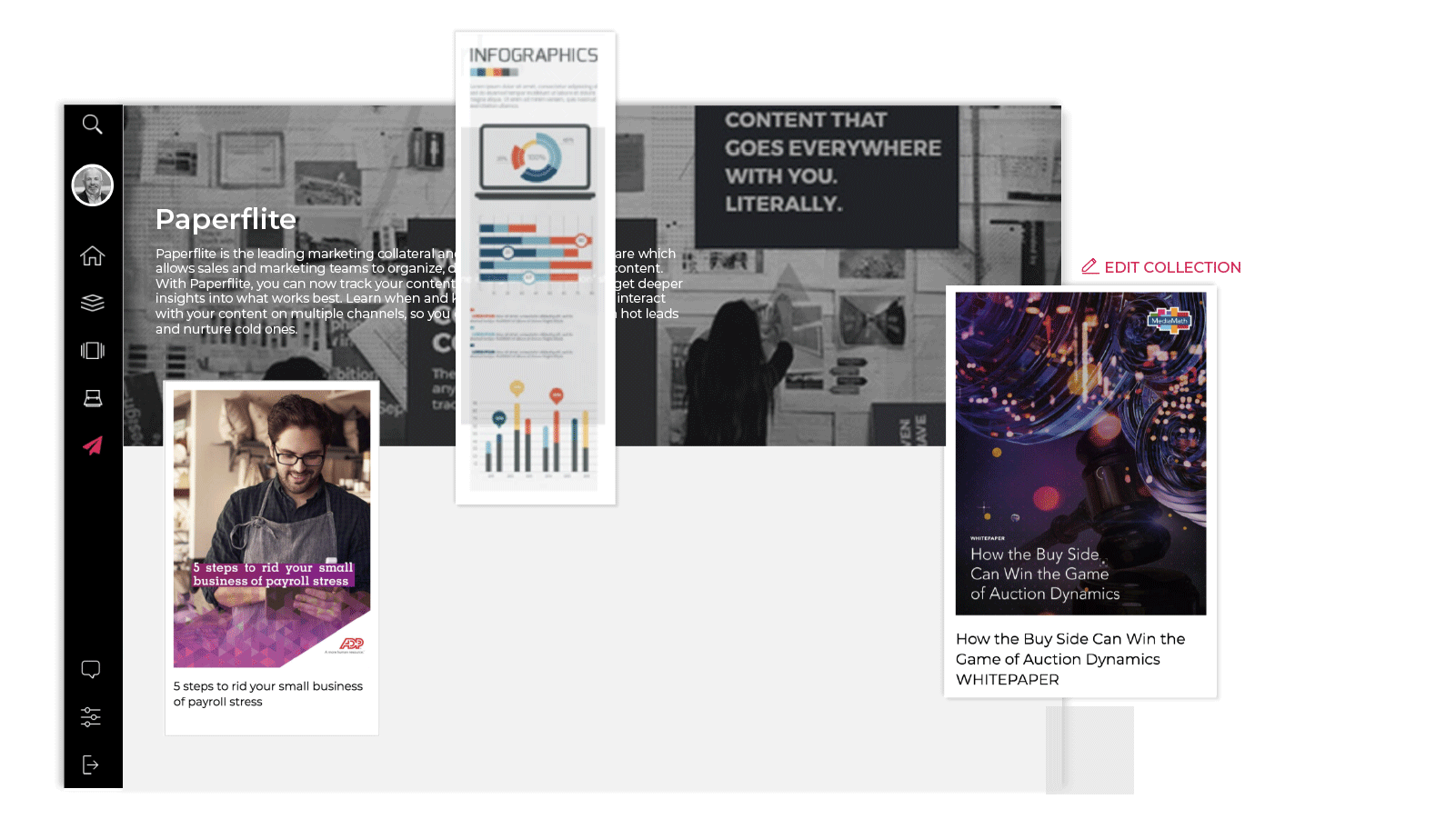 Do Away With Transactional Outreach
You'll send over 5-6 emails with different content pieces before you close a sale. Imagine making your prospect dig through their inbox to fetch your earlier conversations or worse if they've deleted it. Paperflite lets your prospect view all the content in conversations you've ever shared in just a single click.
They can find all the relevant content whenever they need to in a neat, user-friendly format. Your clients no longer have to rummage their inboxes to dig out that one link they put away for future reference.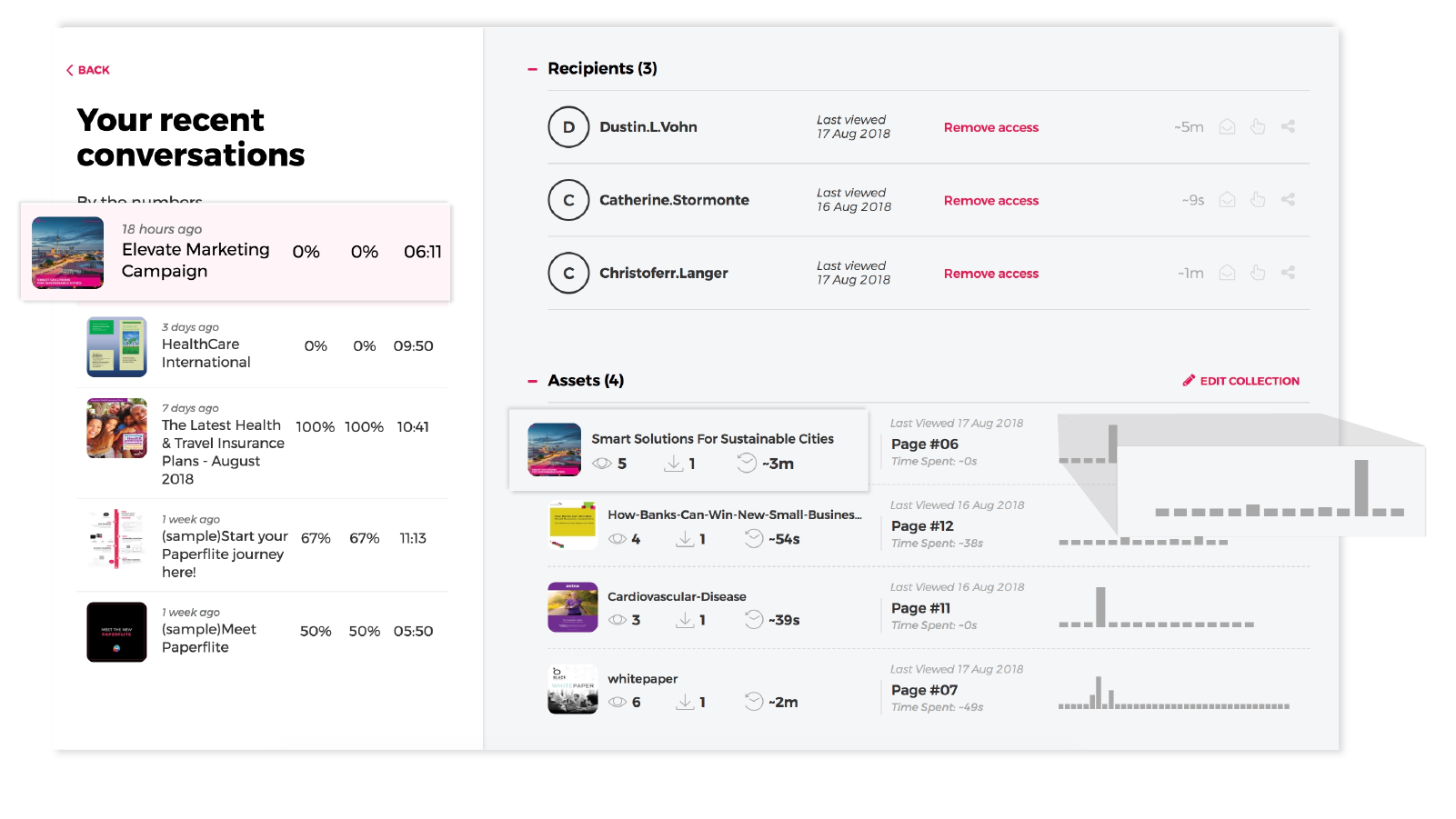 Never Let Your Prospects Out of Sight
Content needs to be handy when your team needs it. When you are on travel or on the field with no internet, or at a conference to showcase your product.
With Paperflite, you don't have to just rely on the web-browser.
Access your content from any device or any platform – Android or iOS or Web. You can now showcase content while on the field, on portable devices, even when you are offline. So many different ways to keep in touch with your prospects.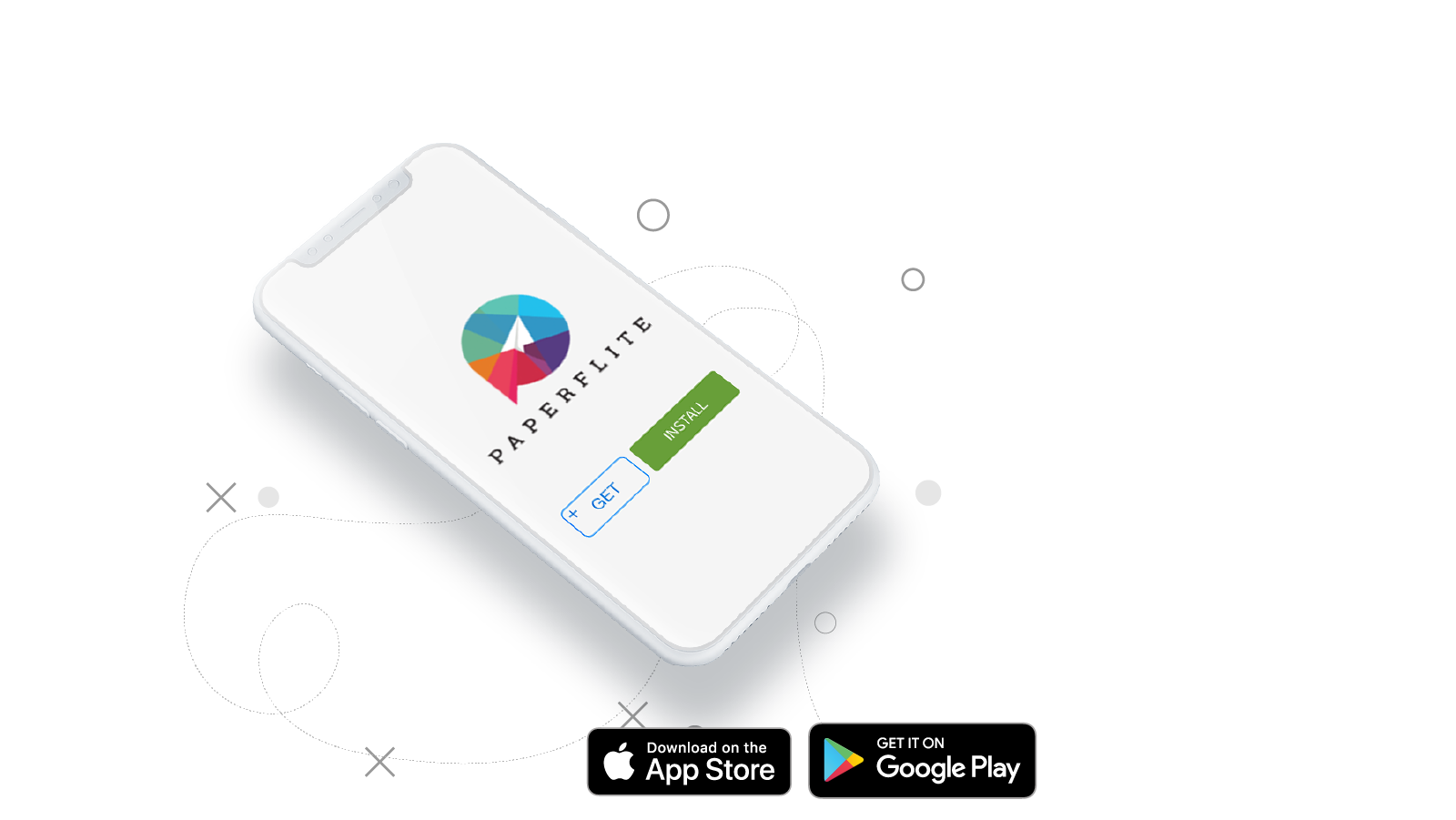 The Content Platform that Does More
Ensuring content from different teams is curated, easily discovered, remains updated and relevant in the hands of every sales rep and prospect can be daunting.
Paperflite to the rescue. Unlike most alternatives, Paperflite does not just stop at drag and drop content from other sources. Paperflite connects with multiple sources and keeps your content in sync at every point in time.
Now you can simply organize your content the way you want, make it easily discoverable, curate it across streams, subscribe to your favorites, make sure your content is in the right hands – all the more reasons for you to nurture your prospects with the right content at the right time.